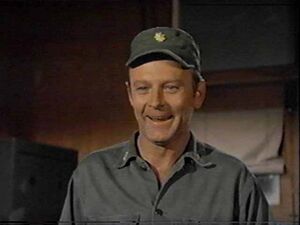 Major Frank Marion Burns is a surgeon at the 4077th Mobile Army Surgical Hospital who is acting commander of the hospital in the absence of Lt. Col. Henry Blake or Col. Potter. His romance with Major Margaret Houlihan is well-known throughout the camp, though the two act as if it is a secret.
Although he and Margaret are both strict regulation-worshippers, Burns, unlike his paramour, is utterly inept at his job. Several times a patient of his has been spared death only because of a chance second glance by one of his colleagues.
Burns is crushed when he discovers Margaret is about to be married to Lieutenant Colonel Donald Penobscot, and after their marriage takes off for Tokyo where he has a breakdown. He is eventually promoted to Lieutenant Colonel and put in command of a veterans' hospital in his home state of Indiana.
Even though he was married, he had an affair with Margaret Houlihan, another major. Who, after at least four years of this affair, became engaged to a man named Donald. Frank desperately tried to continue with their affairs, but Major Houlihan boastingly told him she was "an engaged person" and wouldn't cheat on Donald.